A LGBT+ Reading List : 101 titles from the Queen Mary Library Collection
2018-2019 Academic Year
This is a curated reading list of items kept in the Queen Mary University of London's Library Collections. As a curated list it will not be representative of the full Library collection as there are still a wealth of items which did not make the list, and plenty of masterpieces that has yet to be discovered.
The aim of the reading list is to celebrate narratives, lives and research, which covers different angles of the LGBTQI experience. The material may challenge your preconceived ideas about the world we live in, as well as entertain and inform you.
The list does have a historical focus, as it was created for the LGBT History Month. It will allow you to explore individuals, stories and theoretical concepts which have shaped the world we live in.

(Mainly) Fictional Narratives

17 items

A selection of fiction, poetry and plays which have made an imprint on history. Including "Well of Loneliness" (published in 1928), which was banned shortly after it was published, and "Maurice" (published in 1971), which was not published until after E.M. Forster's death, almost sixty years after it was first written. But, also examples of material which was created in a much more open time, like the Tony award winning play "Angels in America" and the Pulitzer Prize winning novel "Middlesex".

Diaries/Biographies/Autobiographies/Memoirs

17 items

(Auto)Biographies and memoirs about and by a range of individuals from today and our recent past. Notable books are Gertrude Stein's "The autobiography of Alice B. Toklas", where the author retells her life with her life partner in pre-war Paris, and the life and experiences of Larry Kramer, an early AIDS activist and survivor.

Feminist, queer, crip - Alison Kafer 20130253009227,0253009340,0253009413,9780253009227,9780253009340,9780253009418

Book

Explore our recent past through the eyes of the LGBTQI community. Everything from how homosexuality has been portrayed in films during the last 20th Century, to how the 2nd World War enabled LGBTQI soldiers on the front line to break their isolation, and how the United States Army's homophobia led to people coming out to avoid military service.

Theory, and how it is today

20 items

Explore some of the theories which exists around the LGBTQIA experiences, interspersed is also a mix of studies and research accounts about LGBTQIA experiences around the world.

Queer diasporas - Cindy Patton, Benigno Sánchez-Eppler 20000822323877,0822324229,9780822323877,9780822324225

Book

A number of films and TV shows which in different ways depicts LGBTQI life. Take note of the Oscar Award winning films "Boys Don't Cry", "Brokeback Mountain", and "Philadelphia" or get entrenched with the New York Ball Scene of the mid to late 1980's in "Paris is Burning".

Aimée & Jaguar - Max Färberböck, Günter Rohrbach, Hanno Huth, Rona Munro 2001 (dvd)

Audio-visual document

Boys don't cry - Kimberly Peirce, Hilary Swank, Chloë Sevigny, Peter Sarsgaard c2000 (dvd)

Audio-visual document

Brokeback Mountain - Ang Lee, Larry McMurtry, Diana Ossana, James Schamus c2006 (dvd)5017239193774

Audio-visual document

Caravaggio - Derek Jarman, Sarah Radclyffe, Nicholas Ward-Jackson, Nigel Terry 2007 (dvd)

Audio-visual document

Fire - Deepa Mehta, Bobby Bedi, Shabana Azmi, Nandita Das c2005 (motion picture)

Audio-visual document

Go fish - Rose Troche, Guinevere Turner, T. Wendy McMillan, Migdalia Melendez 1994 (dvd)1574920472

Audio-visual document

Kissing Jessica Stein - Charles Herman-Wurmfeld, Jennifer Westfeldt, Heather Juergensen, Scott Cohen 2003 (dvd)

Audio-visual document

The Laramie project - Moisés Kaufman, Dylan Baker, Steve Buscemi, Peter Fonda c2003 (dvd)0783120559,9780783120553

Audio-visual document

Mädchen in Uniform - Géza Radványi, Artur Brauner, F. D. Andam, Franz Höllering 2010 (dvd = girls in uniform)1935423274,9781935423270

Audio-visual document

Orlando - Sally Potter, Tilda Swinton, Billy Zane, Virginia Woolf 2003 (dvd)080013009X,9780800130091

Audio-visual document

Pride - Matthew Warchus, David Livingstone, Stephen Beresford c2015 (videorecording)

Audio-visual document

Tipping the velvet - Sally Head, Georgina Lowe, Andrew Davies, Geoffrey Sax 2004 (videorecording)1569386757,9781569386750

Audio-visual document

A few books which may help you to gain further wellbeing. Did you know there is a wellbeing section in the Library covering many different topics?

A few books which may help you to gain further wellbeing.
All rights reserved ©
Profile Required
Reading intentions and notes are stored against your user profile. Please create a profile to use this feature.
My notes
You must be logged in to add a note
What are item notes?
You can use item notes to make personal notes on any of your reading items. Notes are private to you and will not be shown to other users.
You can review your item notes from the list, the item page or from your profile page.
---
How do I create an item note?
To make notes, first you must be logged in. Once logged in, simply click Add note? next to the list item you wish to make notes on. You can also make notes at the bottom of every item's detail page.
Your note will be saved automatically as you type.
Have you read this?
You must be logged in to set a reading intention
What are reading intentions?
Setting up reading intentions help you organise your course reading. It makes it easy to scan through your lists and keep track of progress. Here's an example of what they look like: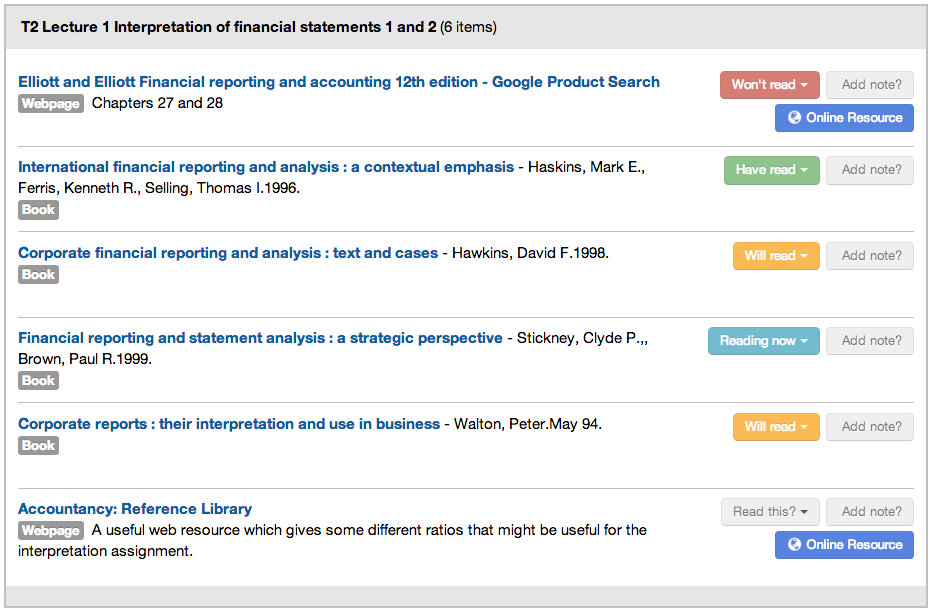 Your reading intentions are also stored in your profile for future reference.
---
How do I set a reading intention
To set a reading intention, first you must be logged in. Once logged in, click Read this? next to the list item you wish to set a reading intention for.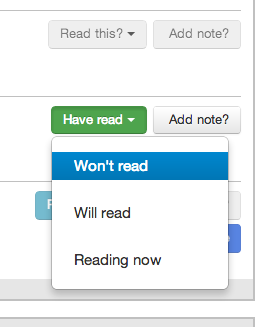 You can also set the reading intention from every item's detail page.