Shakespeare: Reading and Week-by-week list
2017-2018 Academic Year
Archived
Module convenors: Dr. Warren Boutcher (w.v.boutcher@qmul.ac.uk) and Dr. David Colclough (d.p.colclough@qmul.ac.uk), School of English and Drama
This list relates to the year 2017-2018 Academic Year which ended on 31/08/2018
This list has been archived
GENERAL NOTE ON SET READING

You are required to purchase the one-volume, International Student Edition of the third edition of The Norton Shakespeare, ed. Stephen Greenblatt et al (The Norton Shakespeare: 3E on the cover, with a picture of a jester's hat). ISBN 978 0 393 26312 1, with The Norton Shakespeare Digital Edition registration card.

This is a new edition of the complete plays and poems, available from July 2015. You can purchase it direct from the W.W. Norton website (http://www.wwnorton.co.uk/book.html?id=3942) or from other retailers including the W.H.Smiths campus bookshop, which often runs promotions guaranteeing to match or beat the price on Amazon. It comes with access to a Norton Digital Edition online with many more texts and resources than the print edition. You must not purchase the second edition ('International' edition), which has a grey cover, and which is still on sale.

You should be aware from the beginning of the year that the Norton will be the set text for the end of year examination. You will not be able to take the exam without it. You may write brief notes in the margins, and use post-it notes as bookmarks, but you should not write extensive passages of prose in the margins or preliminary or endleaves or on attached sheets. If you do, the invigilators may not admit your copy to the examination room.

Concentrate on gaining a thorough reading knowledge of each set play, understanding the language and themes that cut across the works, and asking questions about the dramatic structure and effect of the plays in their original theatrical contexts.
All rights reserved ©
Profile Required
Reading intentions and notes are stored against your user profile. Please create a profile to use this feature.
My notes
You must be logged in to add a note
What are item notes?
You can use item notes to make personal notes on any of your reading items. Notes are private to you and will not be shown to other users.
You can review your item notes from the list, the item page or from your profile page.
---
How do I create an item note?
To make notes, first you must be logged in. Once logged in, simply click Add note? next to the list item you wish to make notes on. You can also make notes at the bottom of every item's detail page.
Your note will be saved automatically as you type.
Have you read this?
You must be logged in to set a reading intention
What are reading intentions?
Setting up reading intentions help you organise your course reading. It makes it easy to scan through your lists and keep track of progress. Here's an example of what they look like: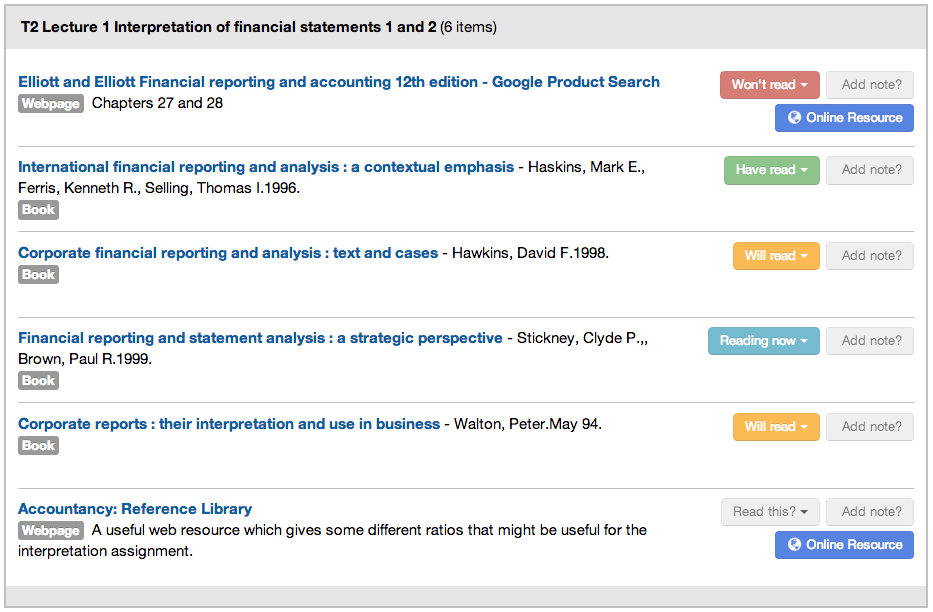 Your reading intentions are also stored in your profile for future reference.
---
How do I set a reading intention
To set a reading intention, first you must be logged in. Once logged in, click Read this? next to the list item you wish to set a reading intention for.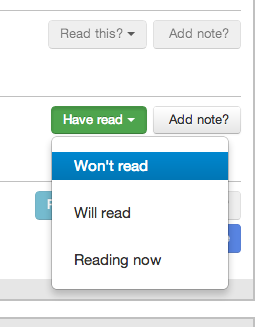 You can also set the reading intention from every item's detail page.