HST6601 War Epidemics Civilization
2017-2018 Academic Year
Archived
From the mysterious plague that brought about the fall of Athens in 430 BC to the reforms to the English feudal system that followed the Black Death of the 14th century, epidemics have long been regarded as agents of historical change. Environmental and medical historians suggests it was smallpox, not the horse or superior Castilian steel, that enabled Cortes to subdue the mighty Aztec empire, and it was typhus, rather than the harsh Russian winter, that hastened the retreat of Napoleon's Grand Armée from Moscow in 1812. And just as disease can influence the outcome of war and conquest, so in times of peace, it is argued, epidemics have an unusual ability to destabilize society and threaten political institutions. Little wonder then that states have frequently sought to blame epidemics on marginal groups, whether they be Jews (plague, typhus), homosexuals (HIV/AIDS), or African migrants (Ebola). In this module you will engage with big themes in environmental and military history by studying contemporary accounts of plagues and conquest and scrutinizing the historiography linking epidemics with war and the rise and fall of civilizations.
This list relates to the year 2017-2018 Academic Year which ended on 31/08/2018
This list has been archived
Week 10: The 'Overshadowed' Killer: pandemic influenza in World War I

5 items

Week 8: Retreat from Moscow: typhus and le Grande Armée (microbial defenders part II).

5 items

Disease and history - Frederick Fox Cartwright, Michael D. Biddiss 1991, c19720880296909

Book Chapter Five, 'General Napoleon and General Typhus', pp. 83-107.

Week 3: The Black Death: demographic deficits.

9 items

The black death in England - Mark Ormrod, Phillip G. Lindley 19961871615488,1871615569,9781871615487,9781871615562

Book Chapt. 1. Jim Bolton, "'The world upside down:' plague as an agent of economic and social change,"pp. 17-79.

The Black Death: an intimate history - John Hatcher 2008029784475X,9780297844754

Book Optional This is a historian's "imagining" of first-hand experiences of the Black Death. It is most definitely not a primary text, but to the extent that it is based on primary documents and informed by Hatcher's deep knowledge of the period it is worth reading.

Week 2: Plague and the Fall of Athens.

5 items

Week 5: The fall of the Inca Empire (disease and conquest part II).

7 items

Week 4: The fall of the Aztec empire (disease and conquest part I).

9 items

Week 9: Cholera, Revolution, and Social Change.

7 items

Week 6: Haiti and yellow fever (microbial defenders part I)

7 items

Week 11. Polio in Syria: war as a disease amplifier

8 items

Syria's Polio Epidemic: The Suppressed Truth - Annie Sparrow Jessica T. Mathews Avishai Margalit Jerome Groopman George B. Stauffer Ingrid D. Rowland Claire Messud Robert Cottrell Ahmed Rashid Riccardo Manzotti and Tim Parks 2014

Article Essential

Syria: The Other Threat - Annie Sparrow David Luban Annie Sparrow Annie Sparrow Sylvain Cypel J. Hoberman Ariel Dorfman Francine Prose Bruce Ackerman Garry Wills Laura Kipnis Ferdinand Mount Julian Bell Pankaj Mishra

Article Recommended

Week 12. Ebola in West Africa: war, securitisation and neglect

4 items

Week 1. Infectious Narratives: an introduction

5 items
All rights reserved ©
Profile Required
Reading intentions and notes are stored against your user profile. Please create a profile to use this feature.
My notes
You must be logged in to add a note
What are item notes?
You can use item notes to make personal notes on any of your reading items. Notes are private to you and will not be shown to other users.
You can review your item notes from the list, the item page or from your profile page.
---
How do I create an item note?
To make notes, first you must be logged in. Once logged in, simply click Add note? next to the list item you wish to make notes on. You can also make notes at the bottom of every item's detail page.
Your note will be saved automatically as you type.
Have you read this?
You must be logged in to set a reading intention
What are reading intentions?
Setting up reading intentions help you organise your course reading. It makes it easy to scan through your lists and keep track of progress. Here's an example of what they look like: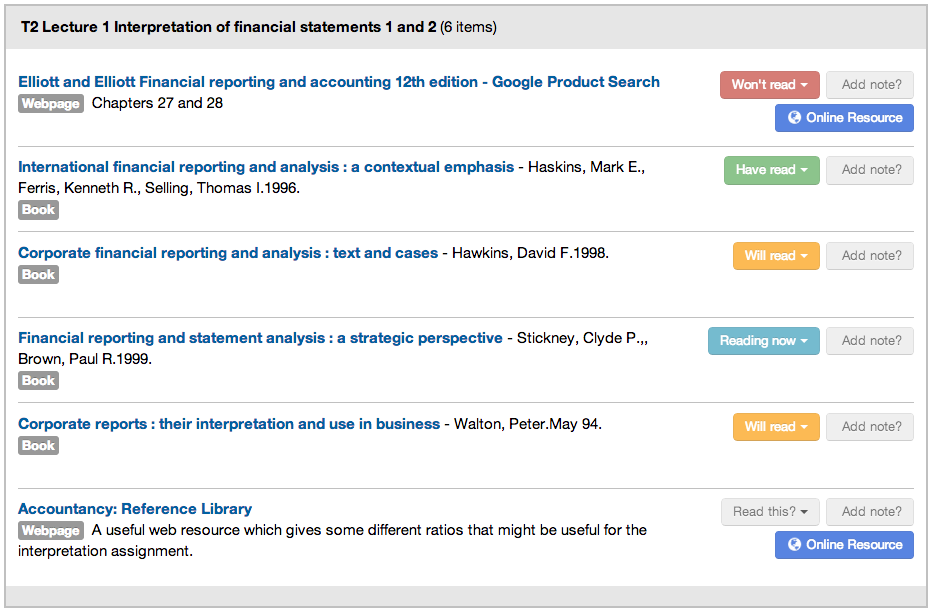 Your reading intentions are also stored in your profile for future reference.
---
How do I set a reading intention
To set a reading intention, first you must be logged in. Once logged in, click Read this? next to the list item you wish to set a reading intention for.
You can also set the reading intention from every item's detail page.