Mapping Contemporary Cinema
2018-2019 Academic Year
Taught by Guy Westwell
Where the work is published

2 items

Website Essential The website for the module on which work will be published if it meets the required standard.

Film Matters Magazine | Future Film Scholars

Website Essential This is an undergraduate journal of film studies. The best work produced on Mapping Contemporary Cinema and its feeder modules will be considered for submission to Film Matters, which has a regular Mapping Contemporary Cinema feature column.

Editing essentials

3 items

The links here are essential to use as you undertake the work of editing; see also the relevant section on QM+ which includes the MCC style guide and film note template.

Webpage Essential All work published via MCC and Film Matters uses the MLA style; this is a useful website that can help when troubleshooting issues related to referencing.

Webpage Recommended This website can be useful if you're struggling to figure out how to format an unusual citation using the MLA style. | Edit notes and importance

Other material relevant to editing

11 items

Other style guides are available

4 items

Mapping Contemporary Cinema has its own (short) style guide but you might be interested to browse alternatives, especially when further developing your own writing style.

Discussion pieces

14 items

The material here will be fed into our weekly discussions of what writing is and how it can be undertaken to a high standard.

Writing tools: 50 essential strategies for every writer - Clark, Roy Peter 20060316014982,0316014990,9780316014984,9780316014991

Book Essential We will be listening to a podcast of parts of this book in class as a focus for discussion. You can download the whole podcast yourself if interested.

The politics of writing - Romy Clark, Roz Ivanič 1997041513482X,0415134838,9780415134835,9780415134828

Book Recommended Material from this book will structure discussion at numerous points. Handouts will be made available.

The editor's dilemma

2 items

The perils and pitfalls of academic writing

4 items

Writing about film

6 items

Possible topics/issues for short guides

28 items

Website Recommended You are encouraged to write a short guide to a national cinema which is not well known. It should have a contemporary focus.

Website Recommended Title sequences

Welcome To Duke University Press

Webpage Recommended The concept of useful cinema is a gaining traction in film studies and could form the basis of a short guide.

CINEMETRICS — film data visualization

Website Recommended Data-mining and infographics are opening up new ways of analysing film. This would make a really interesting topic for a short guide.

Websites focusing on issues in contemporary cinema

8 items

Website Recommended An on-line film journal that covers an eclectic mix of subjects and national cinemas, and with some focus on contemporary issues.

Website Recommended David Bordwell and Kristin Thompson's site; various but with lots of great stuff on contemporary films and contemporary happenings in film studies.
All rights reserved ©
Profile Required
Reading intentions and notes are stored against your user profile. Please create a profile to use this feature.
My notes
You must be logged in to add a note
What are item notes?
You can use item notes to make personal notes on any of your reading items. Notes are private to you and will not be shown to other users.
You can review your item notes from the list, the item page or from your profile page.
---
How do I create an item note?
To make notes, first you must be logged in. Once logged in, simply click Add note? next to the list item you wish to make notes on. You can also make notes at the bottom of every item's detail page.
Your note will be saved automatically as you type.
Have you read this?
You must be logged in to set a reading intention
What are reading intentions?
Setting up reading intentions help you organise your course reading. It makes it easy to scan through your lists and keep track of progress. Here's an example of what they look like: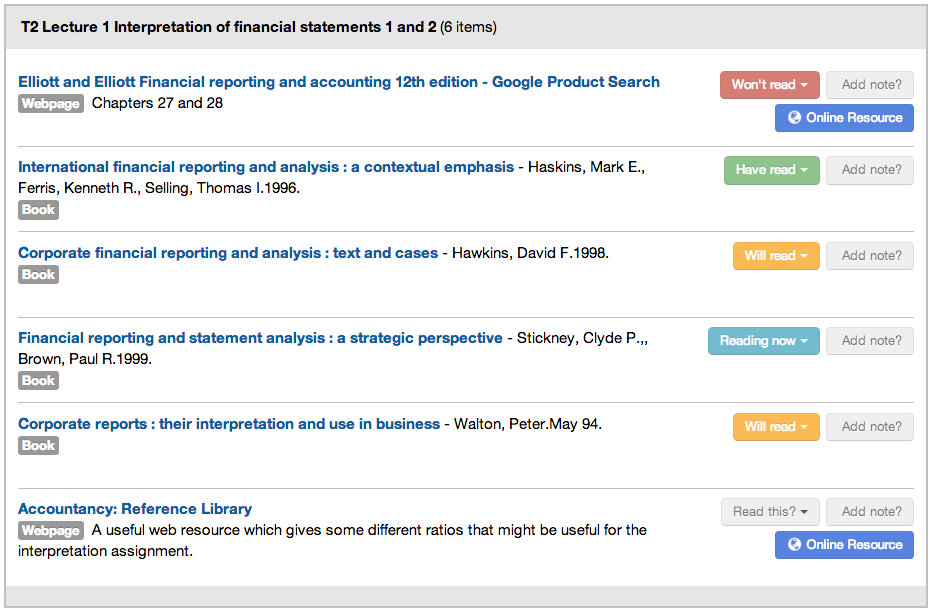 Your reading intentions are also stored in your profile for future reference.
---
How do I set a reading intention
To set a reading intention, first you must be logged in. Once logged in, click Read this? next to the list item you wish to set a reading intention for.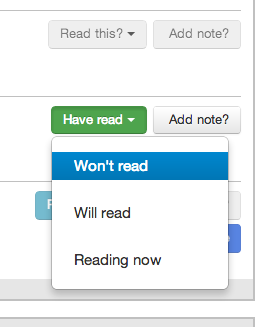 You can also set the reading intention from every item's detail page.